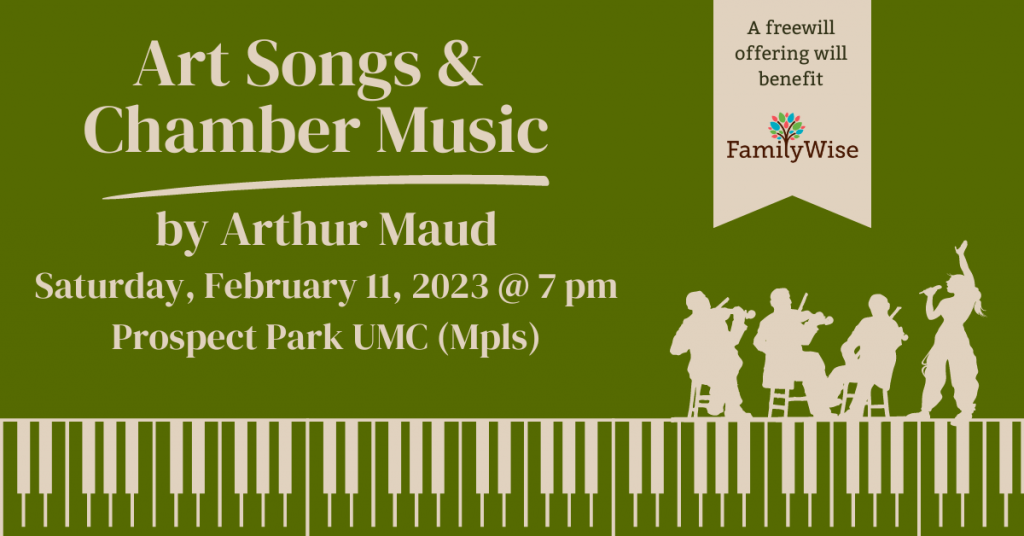 We welcome back the previously postponed Friends of Arthur Maud for an evening of Art Songs & Chamber Music. They will be performing to benefit FamilyWise. Please join us on Saturday, February 11 as we enjoy chamber music composed by Arthur Maud and performed by:
Mary Goetz on piano
Evan Shallcross on violin
Charles Asch on cello, and
Mezzo Soprano Krista Palmquist
The concert is FREE, with a freewill offering will benefit longtime community partner FamilyWise.
Since 1976, FamilyWise has pursued their mission: to strengthen families by promoting the safety, stability, and wellbeing of children. Their vision is for a world where every child thrives. Their programs help families build resilience, identify and harness their strengths, and connect to other resources. They provide a continuum of services and a circle of care that wraps around families to keep them safe and healthy.
---
About Arthur Maud:
Born and raised in Airedale, the West Riding of Yorkshire, England, Maud studied singing at an early age and was chorister and soloist in local churches until the family emigrated to the USA in 1948. As Director of Concentus Musicus Minnesota he prepared and directed more than twenty years of concert seasons for its vocal and early instrumental ensembles. All his working life Dr. Maud has been involved with music education, teaching music theory and history and directing choirs in college and university and in churches. He introduced the Orff 'Schulwerk' to the Twin Cities in 1963 with Project IV—a school of music and the arts for children ages 4–14. He has presented workshops in Renaissance music performance in America and Europe, including 2 weeks in Latvia in 2005 with Mara Marnauza at Rigas Pedagogias Augstskola and with Ilze Valce at the Liepāja Academy of Pedagogy funded by the U.S. State Department.
---
Over the past decade+, the Prospect Park United Methodist Church Community Concert Series has contributed over $60,000 to a variety of community service programs and organizations across the Twin Cities. It's a perfect combination – enjoying great music and raising money for a worthwhile cause! A delicious dessert buffet follows the concert, with free parking available on-street and at Pratt Community School.
PPUMC is located at 22 Orlin Ave SE in Minneapolis, at the foot of the historic Prospect Park Water Tower, one block south of University Ave on Malcolm Ave and adjacent to the Metro Transit Green Line. For more information, please call 612-378-2380 or email office@prospectparkchurch.org.
We hope to see you there!