PPUMC strives to be an open spiritual community dedicated to allowing each person to follow their own unique path. Together, through worship and Christian education, we explore the many pathways to wholeness in body, spirit, and mind.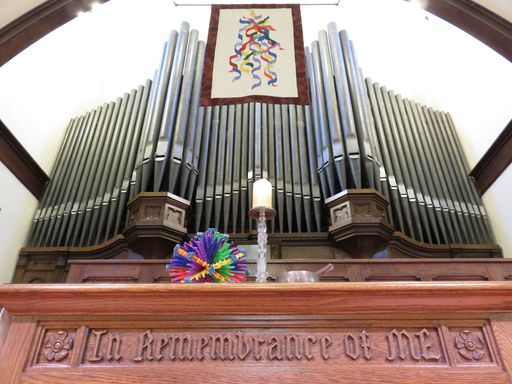 We worship at 10am every Sunday, in-person and online via Zoom. Services are typically an hour.
Music is heavily involved in the service, including all-congregational hymns and anthems offered by the choir. Our pipe organ also gets regular use in addition to piano and other occasional instruments.
There are multiple ways to pray during the service, including out loud to the community, silently, writing your prayer down, or by communicating directly with the pastor.
After worship, we encourage everyone, whether they are in the sanctuary or online, to talk with each other. A station is commonly set up in the chapel for in-person congregants and online attendees to see and talk with each other. For those in-person, coffee/tea and sometimes other treats are available in Community Hall.
Click here to learn more about this Sunday's worship, including how to join online.
Sunday Schedule
9:00-9:45am | Choir Rehearsal
10:00am | Multi-generational worship service begins
~10 minutes after worship | Rooted: Spiritual Formation (learn more)
---
Childcare for young children is available during the service in the nursery.
Accessibility:
An elevator is available by the front entrance that provides access to all 3 floors of the building.
There is a ramp leading to to the back entrance (chapel)
We have one set of braille hymnals available on-site.
Hearing assistive devices are available on a first-come, first-serve basis.
Large-print worship bulletins are available by request in advance by contacting the church office.
---
PPUMC is located at 22 Orlin Ave SE in Minneapolis, at the foot of the historic Prospect Park Water Tower, one block south of University Ave on Malcolm Ave. We are accessible by public transit via the Metro Transit Green Line – Prospect Park Station.
Parking is available on-street as well as across the street in the Pratt Community School parking lot.