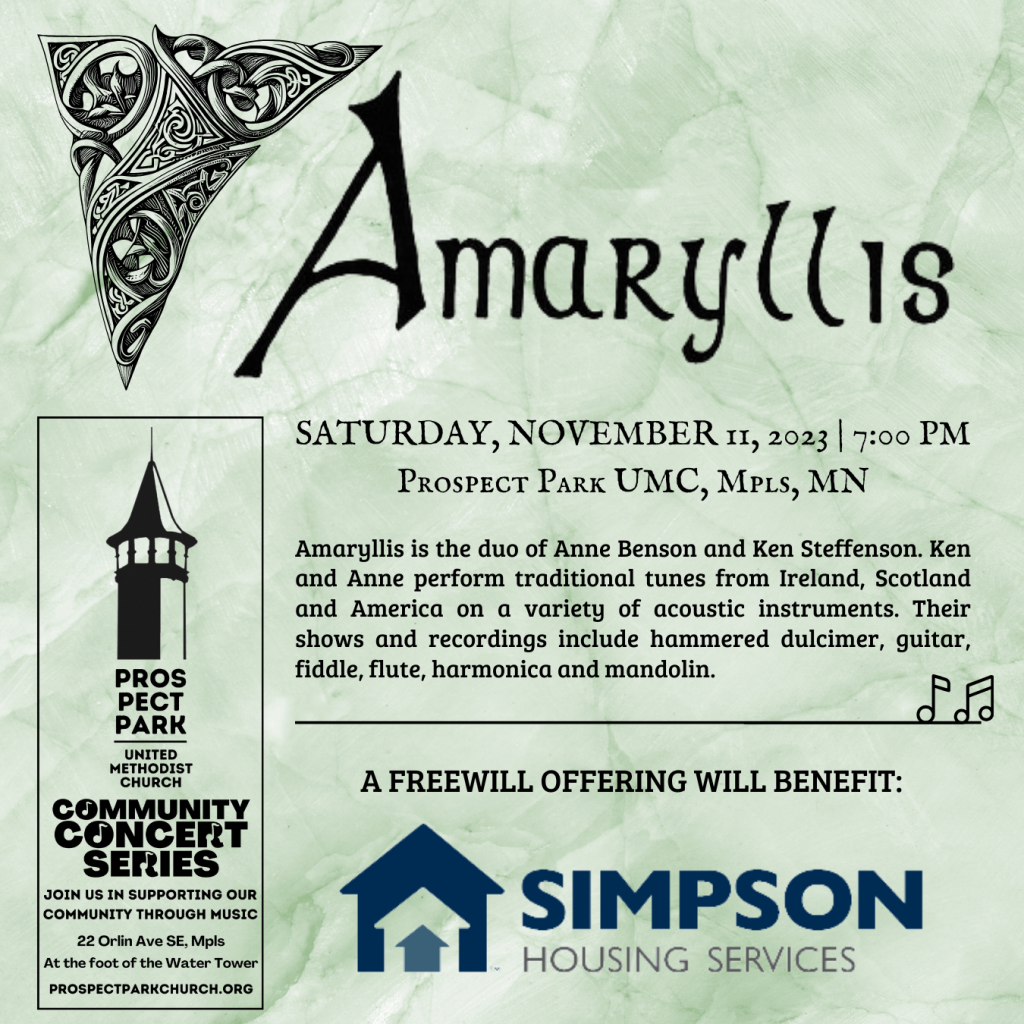 Join Amaryllis and Prospect Park UMC for the November installment of our Community Concert Series!
Amaryllis is the duo of Anne Benson and Ken Steffenson. Ken and Anne perform traditional tunes from Ireland, Scotland and America on a variety of acoustic instruments. Their shows and recordings include hammered dulcimer, guitar, fiddle, flute, harmonica and mandolin.
https://amaryllis2.bandcamp.com/
The concert is FREE, with a freewill offering benefiting neighbor and community partner Simpson Housing Services. Simpson Housing Services began as an emergency overnight shelter at Simpson United Methodist Church in 1982. For four decades, they have been a leading nonprofit helping people experiencing homelessness. In response to unmet community needs, their key programs have grown to include the following: emergency shelter; supportive housing programs for youth, single adults, and families; and developmental and educational services for children. They annually support 2,000 people experiencing and transitioning out of homelessness, including 300 families with 650 children.
—
Over the past decade+, the Prospect Park United Methodist Church Community Concert Series has contributed over $60,000 to a variety of community service programs and organizations across the Twin Cities. It's a perfect combination – enjoying great music and raising money for a worthwhile cause! A delicious dessert buffet follows the concert, with free parking available on-street and at Pratt Community School.
PPUMC is located at 22 Orlin Ave SE in Minneapolis, at the foot of the historic Prospect Park Water Tower, one block south of University Ave on Malcolm Ave and adjacent to the Metro Transit Green Line.
We hope to see you there!