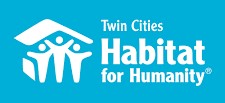 As one of the Twin Cities hardest working acoustic acts, Timbre Junction has cemented a reputation for playing across a variety of musical styles and putting on a spirited show. With their emphasis on skillful playing, tight arrangements and expressive vocals done "their way", Timbre Junction pushes the envelope…this is not your everyday Minnesota bluegrass band.
Twin Cities Habitat for Humanity is committed to building the quality of life, health, and economic prosperity of the seven-county metro region by producing, preserving, and advocating for affordable homeownership – because homes and families are the foundation of successful communities.
PPUMC has been a longstanding member of the Tres Iglesias Habitat for Humanity group, working with St. Frances Cabrini and St. Cecelia's churches in the Prospect Park neighborhood to work on projects in the Twin Cities area every year.
You'll find a convenient donation button for making a contribution in support of Habitat for Humanity by visiting the Community Concert Series page (also linked below). Thank you for your generosity!