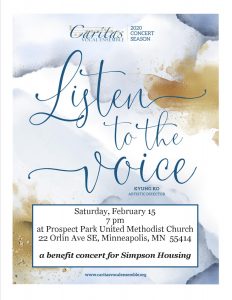 The 10

th anniversary season of the Prospect Park UMC Community Concert Series continues as a capella vocal ensemble Caritas welcomes us to Listen to the Voice on Saturday, February 15 at 7 p.m.
There is no admission fee, with a freewill offering taken for Simpson Housing.
Over the past nine-plus years, the PPUMC Community Concert Series has contributed more $60,000 to a variety of community service programs and organizations across the Twin Cities. It's a perfect combination – enjoying great music and raising money for a worthwhile cause!  There's a delicious snack and dessert buffet immediately following the concert, with free parking available on-street and at Pratt Community School. It's sure to be a fun evening for the entire family! We hope to see you there!
Come for the music, the cause, the comraderie and the dessert buffet in this10th season of the PPUMC Community Concert Series. The full season line- up is:
9/14       Jumpin' Jehosafats/MN Council of Churches Refugee Services
10/12     First Saturday Folk /Southeast Seniors (American folk)
11/16     Tjärnblom/Pratt School (Scandanavian folk)
12/14     Tower Hill Brass/MNIPL (Ensemble holiday music)
1/11       Timbre Junction/Habitat for Humanity (Bluegrass)
2/15       Caritas/Simpson Housing (A cappella vocal ensemble)
3/14       Lazy Does It/Glendale Food Shelf (Dixieland jazz)
4/18       Calliope Women's Chorus/Voices for Racial Justice
5/9         JUST ADDED! Amaryllis/Simposon Housing (traditional Irish, Scottish & American tunes)