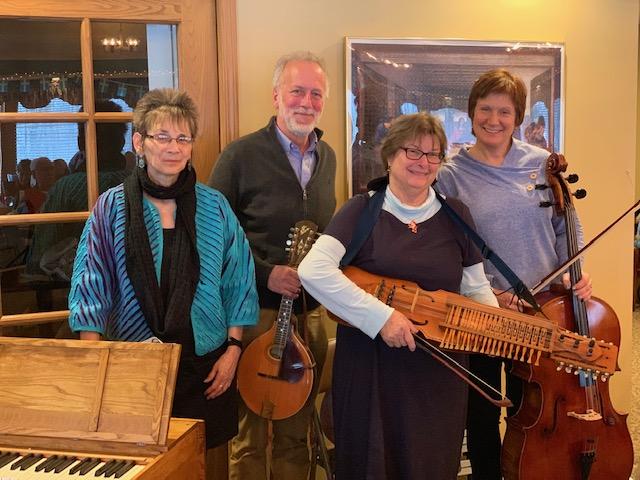 Tjärnblom is a Scandinavian-style string band featuring a unique blend of nyckelharpa, mandolin, cello and harmonium.  They travel a modern "Snoose Boulevard Highway" in a musical journey, playing a repertoire of both old and new Swedish, Finnish, Minnesota and original tunes for dancing and listening. Tjärnblom has performed across the Midwest, and appeared on Minnesota Public Radio's A Prairie Home Companion show. 
The name Tjärnblom is Swedish for "woodland lake flower."
Members of the band are Cheryl Paschke, nyckelharpa, Joe Alfano, mandolin and guitar, Erin Walsh, cello, and Val Eng, harmonium.
The concert is free, with a free-will offering accepted in which 100% will be forwarded to Pratt Community School, a Minneapolis Public School.
Come for the music, the cause, the comraderie and the dessert buffet in this10th season of the PPUMC Community Concert Series. The full season line- up is:
9/14       Jumpin' Jehosafats/MN Council of Churches Refugee Services
10/12    First Saturday Folk /Southeast Seniors (American folk)
11/16     Tjärnblom/Pratt School (Scandanavian folk)
12/14     Tower Hill Brass/MNIPL (Ensemble holiday music)
1/11       Timbre Junction/Habitat for Humanity (Bluegrass)
2/15      Caritas/Simpson Housing (A cappella vocal ensemble)
3/14      Lazy Does It/Glendale Food Shelf (Dixieland jazz)
4/18   Calliope Women's Chorus/Voices for Racial Justice
5/9   Possible TBA