PPUMC invites you to be a part of the church community, whether you live near or far, visit often or only once and a while.
Weekend updates are sent every Friday afternoon via email. You'll find worship information, important announcements and upcoming events happening in the immediate and broader church community, and more.
Click here to see the most recent PPUMC Friday Weekend Update.
The Prospectus is our monthly newsletter mailed and emailed to all members and available in the church building. You'll find the Pastor's Letter, information about upcoming activities and events, as well as the news from the PPUMC community in The Prospectus.

Click here to see the October 2020 Prospectus.
Prospectus 2.0 is our quarterly email-only newsletter that recaps what happened in the previous 3 months through somewhat lengthier articles. If you want a good look at who we are, and what we have been up to, this is where you'll find it!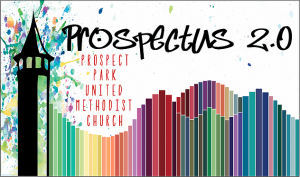 (View past issues of Prospectus 2.0 here.)