Click HERE to join the worship service. Scroll down for more information.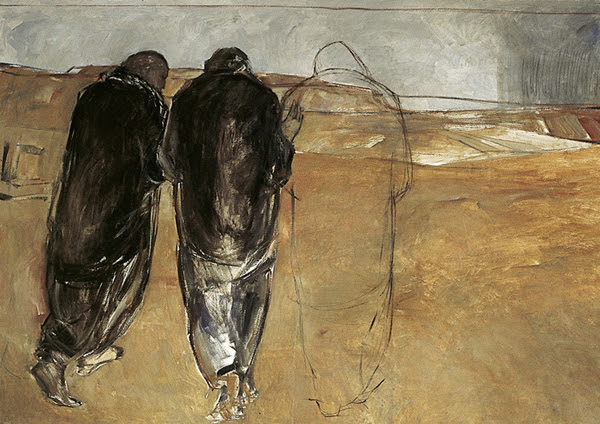 The first Sunday in May is renowned for its splendor!
Under usual circumstances we can't wait to go out and celebrate May Day and warm up for Cinco de Mayo! We revel in the Festival of Nations and generally, allow ourselves the intoxication of inhaling SPRING!
Only this year isn't usual.
This year is unsettling – to put it mildly.
And our story for the morning took place on another unusual, unsettled spring day. It happened on a road heading away from confusion and chaos and toward the revelation of a whole new way of living.
We will walk the road to Emmaus.
If you'd like to read ahead (spoiler alert: yet another surprise) –
https://www.biblegateway.com/passage/?search=Luke24%3A13-31&version=TLV
See you on the road.
Pastor Chris
(The haunting image above is by Janet Brooks-Gerloff.)
---
To join online, click here: https://zoom.us/j/200490023 OR join by meeting ID via the Zoom app: 200 490 023
The live feed begins at 9:30am, with worship at 10am.
For log-in questions, please contact our tech support team prior to worship:
Cathy: 651-587-5356 / cathy@vfamilycoffee.com
Steve: steve.ozanne@gmail.com
Audio-only dial-in: 1-301-715-8592; meeting ID 200 490 023 #