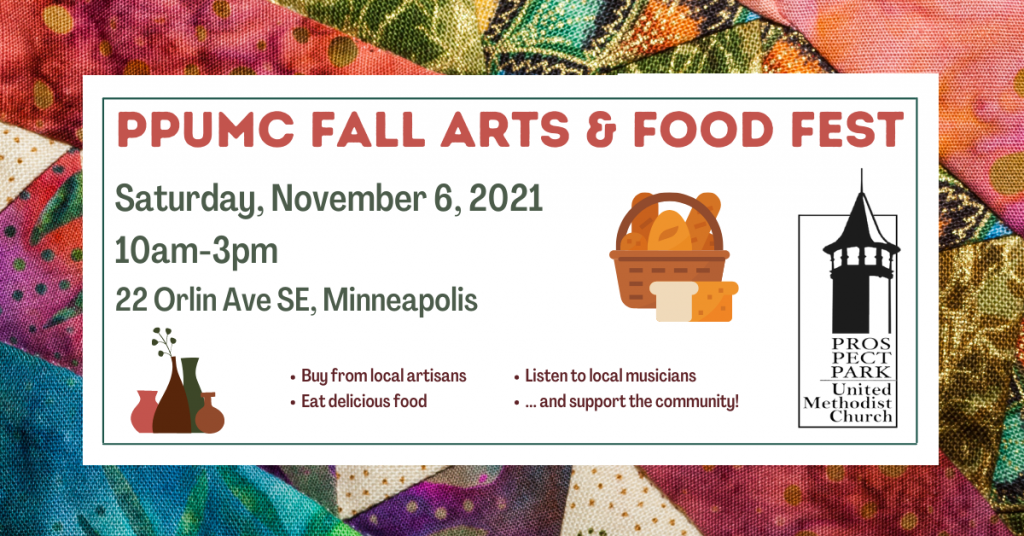 Previously known as the PPUMC Bazaar & Art Fair, this year we are happy to present a reimaged event: the Fall Arts and Food Fest!
This event will be focused on:
Community gathering,
The chance to invite others in to get to know us,
The artists, musicians and skilled cooks among us – and how they ALL nourish us!
Come shop from a selection of vendors from our very own Prospect Park UMC community. We will also be offering food for purchase and live music for toe-tapping!
This year's vendors are:
Fabric Arts:
Judy Bratt (weavings)
Joan Jewett (fabric arts, baskets)
Karen Radford (fabric arts)
Marilee Johnson (quilted items)
Judy Horns (knitted items)
Mary Sicora (bags)
Food:
Kelley Ray Jewett (chocolates)
Velasquez Family Coffee
Lunches and brownies will be available to-go from the church kitchen
Additional Vendors:
Angela Hed Vincent (paper arts)
Pam Harris (paintings)
Joe Tromiczak (pottery)
PPUMC Boutique run by Patsy Olsen
COVID-19 Guidelines for Attending:
Whether or not you are vaccinated, please wear a mask inside the building that completely covers mouths and noses.
Maintain social-distancing of six feet from others outside your own household.
Please do not enter the building if you have an elevated temperature, or have been exposed to someone with an elevated temperature over the past several days.
We can't wait to see you!