November 12, 2021
Friends, with the dramatic rise in positive COVID-19 test results across Minnesota over the past several days, the PPUMC leadership team is asking everyone to seriously consider worshiping from home via our Zoom connection for at least the next couple of weeks. This doesn't mean we'll be locking the doors of the church on Sunday morning; however, for those few worshiping in person, we will carefully observe precautions, including no congregational singing in the sanctuary. Note: Pastor Chris will unmask at a distance while speaking; music leaders will continue to wear masks.
According to the Minnesota Department of Health, the statewide total for COVID-19 hospitalizations and positive testing is at its highest level so far for 2021, putting the state near the top of the nation in new infection rates. We talk with experts in connection with us, such as our congregational physician, Kelley Jewett, as well as the Minnesota Department of Health, the City of Minneapolis and others for guidance and input.
We continue to navigate this journey together. We take our vulnerability seriously. And we will do all we can to stay strong and resilient throughout. Look for updated information in our Friday Weekend Update and Monday Weekly Calendar emails, as well as the PPUMC website and Facebook page.
PPUMC Leadership Team
---
August 26, 2021:
In response to rising rates of COVID variants we ask that you observe these rules:
Whether or not you are vaccinated, please wear a mask inside the building that completely covers mouths and noses.
Maintain social-distancing of six feet from others outside your own household.
Please do not enter the building if you have an elevated temperature, or have been exposed to someone with an elevated temperature over the past several days.
ADULT AND CHILD-SIZED MASKS ARE AVAILABLE INSIDE CHURCH ENTRANCES
PLEASE DISCARD OR TAKE MASKS WITH YOU AFTER USE
---
August 19, 2021:
Greetings, Friends,
COVID is yet present among us and we are again on alert. Changes are frequent enough that we want to be clear about the present COVID response policies for worship at PPUMC.
We also publish the current policies:
in the Friday Weekend Update every week,
the Monday Calendar Update weekly,
on the PPUMC website anytime,
and in the Prospectus newsletter monthly.
We want you to know what to expect so you can manage your own risk tolerance as you choose to worship from home or on-site.
UPDATE for Sunday August 22 and 29:
Based on recommendations from the CDC, Dr. Kelley Jewett, and the latest guidelines from the MN United Methodist Conference:
Masks are required for everyone in the church building.
Everyone observes social distancing of at least six-feet from other households.
People in the pews are asked to hum or listen rather than singing hymns.
Worship leaders will be singing at a safe distance, masked.
Pastor Chris is testing for COVID every Saturday and will unmask at a distance while speaking (as long as she remains COVID-free).
We will refrain from a hosted in-person hospitality time.
As challenging as this news can be, we are telling you what to expect so that you can make wise choices for your household. Thank you for your understanding and patience. Together we are creating community as possible, while also choosing practices intended to keep everyone safe and healthy.
In Care and Peace,
Ann, Cathy, Steve, Pastor Chris
August 1, 2021: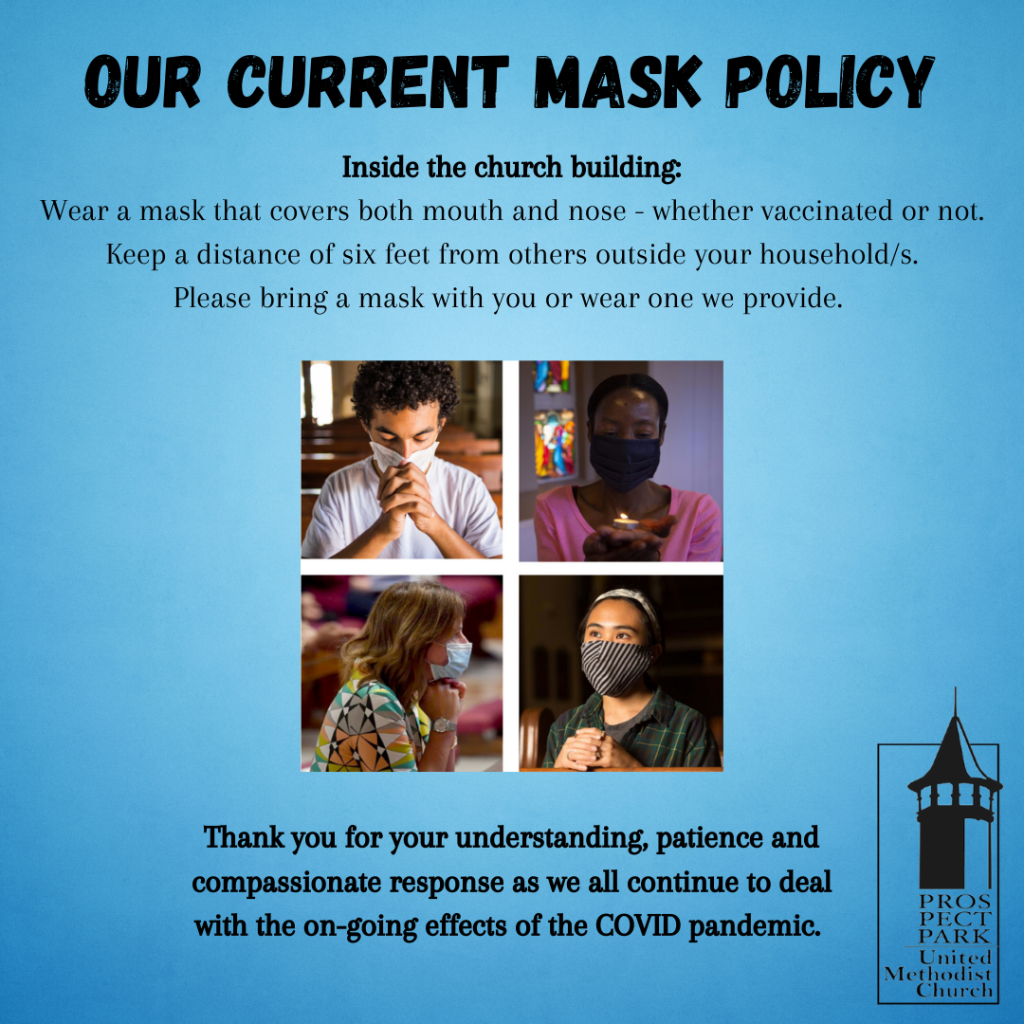 [OUR CURRENT MASK POLICY:

Inside the church building:
-Wear a mask that covers both mouth and nose – whether vaccinated or not.
-Keep a distance of six feet from others outside your household/s.
-Please bring a mask with you or wear one we provide.

Thank you for your understanding, patience and compassionate response as we all continue to deal with the on-going effects of the COVID pandemic.]
July 9, 2021:
Worship services will continue to be held in-person AND on Zoom at 10am every Sunday.
The elevator is back in service.
Simple hospitality will be in the Chapel 9:30-10am.
MASK POLICY of JULY 9:
We are worshipping and singing together unmasked, trusting that those who are particularly at risk or who are not yet fully vaccinated will wear a mask. There are masks onsite if needed and space to distance if desired.
Worship information and Zoom login can be found here: https://www.prospectparkchurch.org/events/sundayworship/
July 2, 2021:
For the first time in a long time….
You are invited to worship IN-PERSON at 10am Sunday, July 4, 2021!
Or join by Zoom!
Simple hospitality will be in the Chapel 9:30-10am.
Please note the elevator is temporarily out of service. A part is on order. Please use the ramp entrance for sanctuary and Chapel accessibility if needed.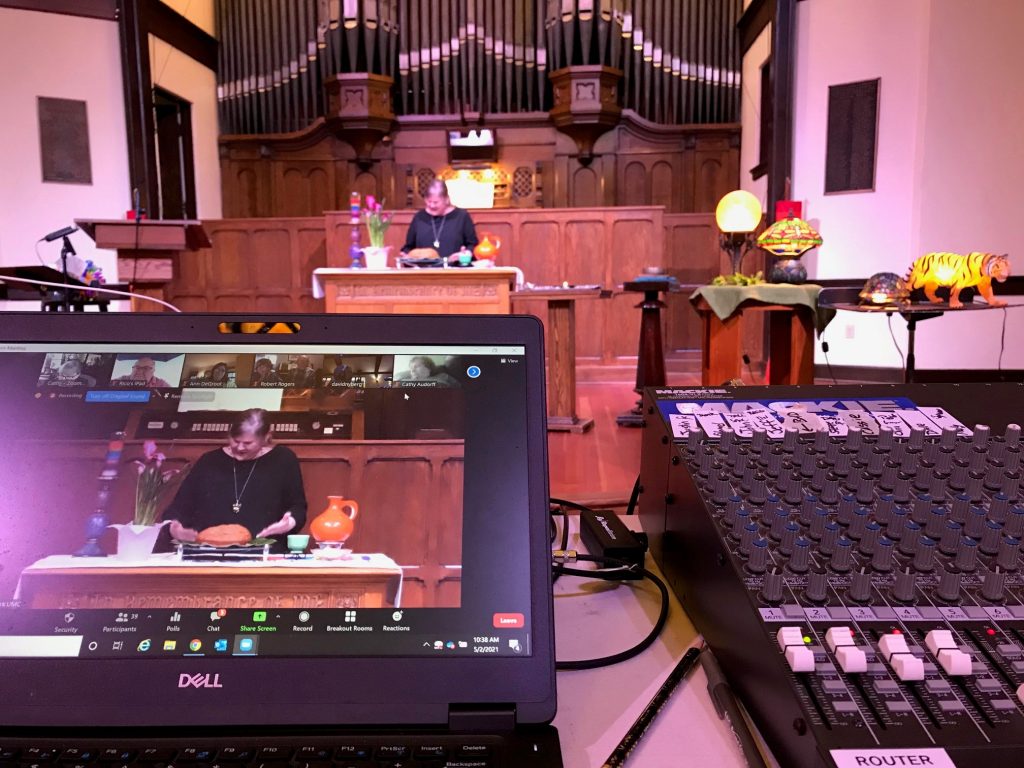 May 20, 2021:
Earlier this month, the PPUMC Administrative Council updated their strategy for emerging from COVID-19 restrictions. Since the beginning of the pandemic, PPUMC has had one primary goal in mind: keeping everyone SAFE, and during the past year we have come to deeply value the opportunity to be in community beyond the walls of the building as well.
Here is an overview of the most recent plan:
Small Groups
Small groups are welcome meet in the church beginning in June as scheduled. The church Administrative Assistant will work with requesting groups and organizations to schedule all building use; guidelines will be provided and each group will be asked to observe the most recent safety information shared by the Minnesota governor's office at the time of the meeting. We encourage PPUMC sponsored groups to utilize the internet capacities of the building to include Zoom whenever possible.
Large Groups
Large groups will not be meeting in the church over the summer months; however, on-going conversations will be held discussing all possible options for the fall as conditions and recommendations allow.
Sunday Worship Services
The church community is moving back to worshiping together deliberately and in a step-by-step plan. This makes it possible for us to come back into the sanctuary as safely as possible and, at the same time, provide live worship in both the sanctuary and, as we have been doing, over Zoom. The plan is to start on a small scale so that the system can have time to develop with full oversight and response from the worship planning team and minimizing any disruptions during the worship experience.
The current plan for June is to have a small group of "Worship Testers" in the sanctuary for each Sunday service during the month. Each Tester will provide feedback on their experience by filling out a questionnaire after/during worship.
A sign-up process for interested 'testers' has been designed and is available at the link below. Each week a small group – not to exceed a total of 10 people – will be invited to worship in the sanctuary. We are asking one Sunday sign-up per Tester until everyone has had a first chance.
Finally, an additional greeter/usher who has previously been a 'tester' will be on-site to welcome new 'testers' into worship.
We are anticipating this process will unfold in a positive, respectful way for all. The month of June will show us how to do July, so that we are ready to welcome larger groups of people into the space while keeping our Zoom connection and maintaining community.