Thank you for visiting the Prospect Park United Methodist Church (PPUMC) web site. We'd like to tell you a little something about our community, and the work we do as people of faith here in the Twin Cities and out in the broader world.
PPUMC is a reconciling congregation that seeks spiritual growth through reason, experience, scripture and tradition. We engage in work that demands justice in the community and in the world, use gender neutral language in reference to God, inclusive language for Creation, believe that music inspires us, that sharing binds us together, and that reflection and prayer empower us to act. We welcome seekers of all ages, races, cultures, sexual orientations, gender identifications, and creeds.
Our worship experience is rich and interactive, reflecting our belief that God is continually walking with us and shaping us with unimaginable love, grace and mercy as shown by Jesus. As we continue to move through the COVID-19 pandemic and for the foreseeable future, our worship services are online-only while we continue to stay in community and celebrate our presence together.
We also partner with a variety of community organizations throughout the year in support of their work, with a commitment to creation care, supporting strong families and individuals, empowering the marginalized, and promoting the creative arts. In fact, under normal circumstances, it is rare to find a day on which there are not classes, meetings, rehearsals or other gatherings taking place in the building, with most coming from the surrounding community to connect with each other and the world.
Perhaps our mission statement says it best: "We seek to be an inclusive Christian community that affirms faith in God and spiritual growth with a commitment to justice and stewardship of God's creation." We hope you will reach out to learn more; our contact information is included at the bottom of this page.
Wild Blessings,
Pastor Chris
About Rev. Chris Kliesen Wehrman
Rev. Chris Kliesen Wehrman arrived at Prospect Park United Methodist Church in July of 2011. Known for her "Wild Blessings" signature greeting, Pastor Chris is steeped in the "already…and not yet" of the Kin-dom of God fulfilled.
"Resurrection is at work in the roots and the sap and the canopy of this world – in earth and air and fire and water – in Spirit and in stone. Rebirth is built into the Ground of All Being! And at the same time, the blooming of the Kin-dom, Creator's best idea fulfilled, is yet delayed. The implementation of Jesus' teachings is yet unrealized. We are interwoven with so many and diverse expressions of Life, of one family in Holy reality; we carry Kin-dom within us. And at the same time, we are continually estranged from right relationship with all that Was and Is and Is to Come. Our lives, our calling; our purpose stands in the gap between the now and the not yet.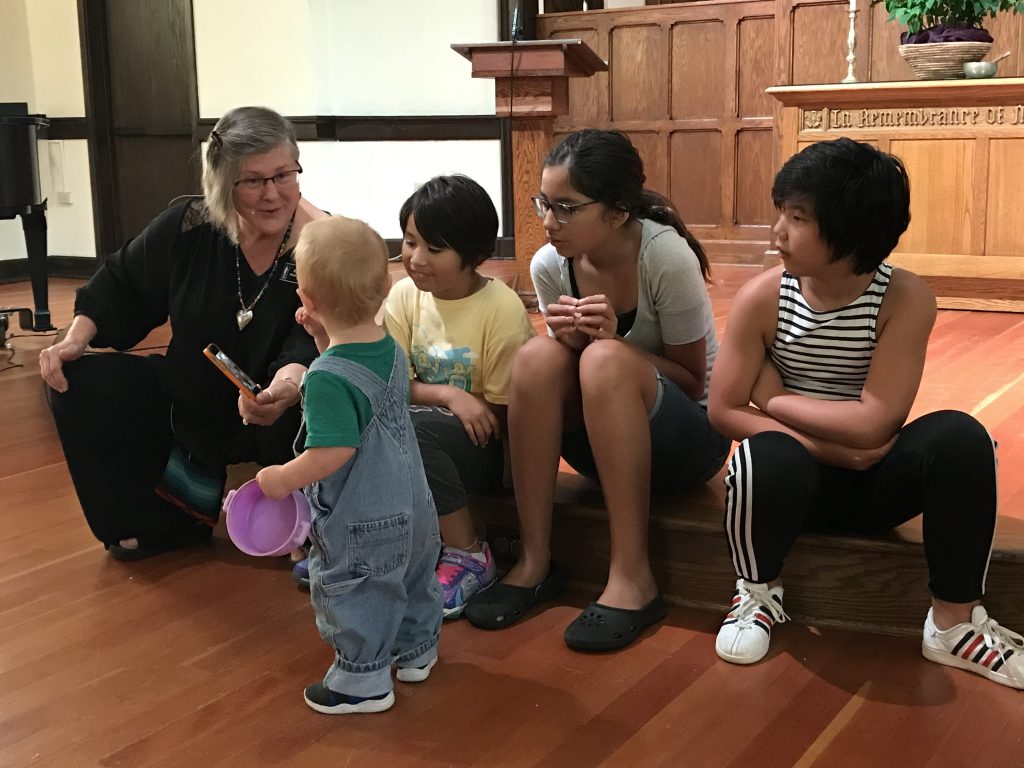 One of Chris' greatest joys at PPUMC is creating meaningful worship experiences. Blending traditional sacraments and symbols with contemporary expressions of justice, love, prayer, service, salvation and song, services are often interactive while fostering a sense of curiosity and wonder – while demanding relevant engagement. She excels in bringing scripture alive in the moment and applying it to current context. And, like everywhere, as the COVID-19 pandemic has brought major changes for PPUMC. Pastor Chris has led the congregation with common sense and compassion, facing the challenges head-on.
"Our building is resting. Our church, though, is most emphatically alive and at work! We are scattered, yes, and that is both our challenge and the gift! We have learned new ways. And we have learned that we CAN LEARN new ways! We will not be afraid of what we cannot see ahead because we have not let go of one another and what brings us together. We are a community broadly planted and willing to see clearly and open our eyes to how we are called to be the church. We have work to do!"
Chris was born and raised on the plains of northwest Kansas and considers wind, black dirt and big sky to be her natural habitat. In her first career, Pastor Chris spent more than 20 years in professional theater where she toured and worked primarily in Omaha, Chicago, and eventually Minneapolis. As a member of the Dudley Rigg's Brave New Workshop in Minneapolis she wrote, performed and taught improvisation for nearly a decade. She later served as curator of educational resources at The Children's Theatre Company in Minneapolis as well as Director of Theater Ministries at Lake Harriet UMC in Minneapolis prior to her Commissioning as a UM Elder an her first appointment at PPUMC.
As pastor, Chris has directed several productions in the sanctuary of PPUMC, an "in-house" old-style radio show in 2011, and The Man of La Mancha and A Year With Frog and Toad in 2018 and 2019. Pastor Chris holds a Master of Divinity Theology and the Arts degree from United Theological Seminary of the Twin Cities, and a MA in English Literature from Creighton University in Omaha. Her undergraduate degree is in Theater Communication with a minor in Psychology.