Men's & Women's Groups
Women's Group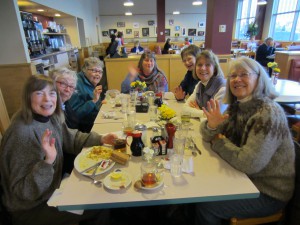 The church women's group has a regular meeting the second Wednesday of each month, 8:30-10:00am, at the Egg and I Restaurant on University Ave. The time and place are the only "regular" things about meetings. Topics of conversations range from personal to pragmatic, from care for the earth to care for each other, from news to new ideas. Women of all ages are invited to attend. (This is a meeting with no preparation and no clean up!) You will find a meeting of the minds and hearts with old friends and new over a delicious breakfast of your choice.
The next Women's Group meeting will be Wednesday, August 9 at 8:30 am. 
---
Men's Group
The men's group meets on the second Saturday of most months at 8:30 AM*. It is a group of men affiliated with PPUMC, but anyone is welcome to attend. Most of the time someone will volunteer to host the meeting in their home, but sometimes we meet in the church basement. We often get together, have something to eat, and chat about what is going on in our lives at the time. Other times we chose a topic of current interest and discuss that, being lead by the person or persons that brought up the topic.
There are no requirements as to who may attend or what we will discuss. The host typically furnishes a breakfast dish and the attendees bring something to supplement the meal. Questions can be sent to Gordon Myers at gmyers333@gmail.com.
*We sometimes take a break during the summer, as many are out of town on vacation. That is the case this year; meetings will resume in September! Details to be announced.